apprenticeship PROGRAM
Congratulations to Ziggy Wellens from Belgium!
Congratulations to Becca Schultz from Wisconsin!

Robin Hopkinson with students Saeed Alkandy, Khalid Alyafei and
Al Zobair office manager Hannah Brisby.
The Hopkinson Equine Management at Blue Star Farms apprenticeship program offers the opportunity to work one on one with Robin Hopkinson and the wonderful Arabian horses of Blue Star Farms providing the most detailed education about training, conditioning and management of Arabian show horses. Robin Hopkinson has over 25 years experience with working with some of the Worlds greatest Arabian horses. Students that have worked together with her have gone on to achieve many National, International and World Championship titles to their credit as well as taking positions of Management at some of the greatest Studs in the World.
Hopkinson Equine Management is very proud to have had the honor of working with the staff of the following farms in the past year....

Jadem Arabians - Belgium
Al Zobair - Sharjah
Al Rayyan - Qatar
Al Waab - Qatar
Ezzain Arabians - Kuwait

We now welcome you to learn at the beautiful facility of Blue Star Farms in sunny Southern California.

Congratulations to our most recent students!


Toni Bauwens - Belgium


Tony's love for the Arabian horse and his wonderful families support of his dreams brought him to his first visit to the United States to spend 1 month with Robin. Within the time he spent working with Robin at Blue Star Farms Arabians Tony brought his dedication and talent that rewarded him with an education that will last a "Life Time." We look forward to Tony's return to further his education this summer.

Louise Brian - England
Already an accomplished trainer in England, Louise Brian came to the States to train under Robin Hopkinson at Blue Star Farms to take her training, conditioning and management skills to the next level. Louise's hard work and excellent work ethic's allowed for her to represent Hopkinson Equine Management's program when she was invited to condition and show for El Gamill Stud in Egypt through the recommendation of Shawn Crews, and also to share her management skill's with Al Ward Stud in Kuwait after Robin was asked to find "Just the right person!" Congratulations Louise! "Well done!"
Jan Lennons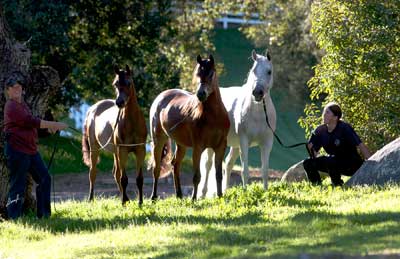 In the 3 months that Jan spent working with Robin, he learned how to condition and school halter horses as well as work with performance horses. Here Jan is working with "Fantacia BVA" a young English Pleasure prospect owned by Blue Star Farms Arabians.

Contact Robin Hopkinson for further information.